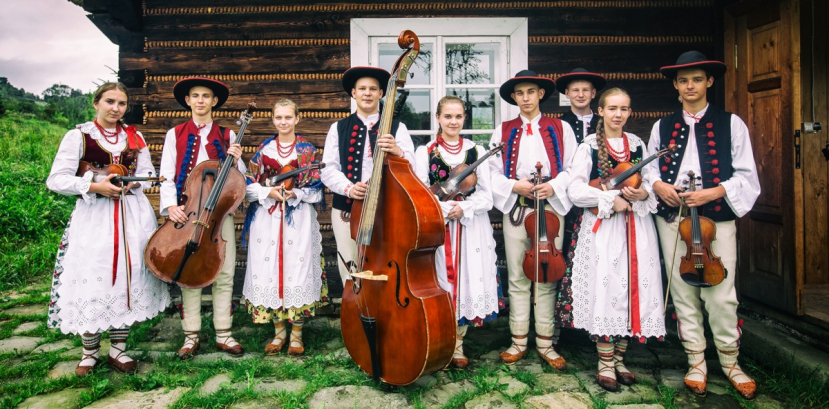 Pewel Ślemieńska is a village with a population of around 1,600. It lies in the Żywiec county, Świnna Commune, on the western hillside of the Pewelskie Range, which slopes down to the Żywiec Valley. Over the centuries of human activity, the forests on the Range have been regularly cut down to make room for cultivation. On account of the fact that the farmsteads located there reached up to the very ridge of the range, today the tourist trail that runs down the ridge commands a beautiful, panoramic view which is a particularly appealing aspect of this touristically attractive area.

In 2006 at the Kindergarten and School Complex in Pewel Ślemieńska, the HAJDUKI Folk Ensemble was established. Ethnographically, it represents the Żywiec Highlanders, whose folklore was developed on the basis of the original herding- and cultivation-related culture containing intriguing brigandage elements as well as elements of the Czech, Slovak, Hungarian, Austrian and Romany cultures. The ensemble brings together children, teenagers and adults aged 5-20 (a total of 70 persons), and its repertoire includes Żywiec Highlanders' customs and rites, Marian songs as well as Christmas carols and shepherd's carols. The ensemble has released two CDs: one in 2015 entitled In Bethlehem by the Roadside, and one in 2018 entitled We Are Singing for Little Jesus. Both the CDs were recorded with guest performances from the ensemble's friends, e.g. the musical bands of "Grojcowianie," "Wałasi," "Tekla Klebetnica" and the "Rodzinna Kapela Wrzeszczów."

At the Festival HAJDUKI will present a programme entitled Little Musicians. In a clearing, some children are playing blind man's buff, counting rhymes, teaching one another to play the violin. Others are dancing obyrtka, girls' obyrtka, and in a circle, playing with twine, singing Żywiec Highlanders' traditional songs, playing traditional instruments. The programme will also feature shepherd's instruments such as six-hole pipes, ocarinas, as well as a diatonic button accordion, a violin and a little double bass (the so-called Podhale double bass). In the ensemble, musically-inclined children and teenagers make up a group of 20 individuals who are learning to play traditional highland instruments.

Roman Duc is the ensemble leader, Franciszka Hajdus is the artistic director and Wojciech Wrzeszcz is the musical director.